80% of sales require five follow-ups after initial contact, but 44% of salespeople give up after one...let us help you and your team with your follow up
What others have to say (TESTIMONIALS)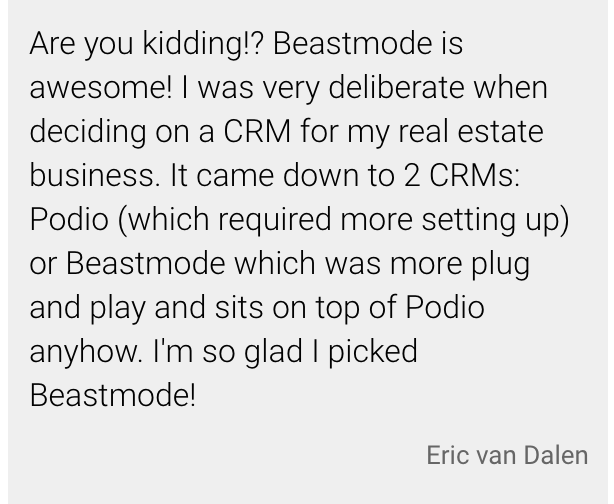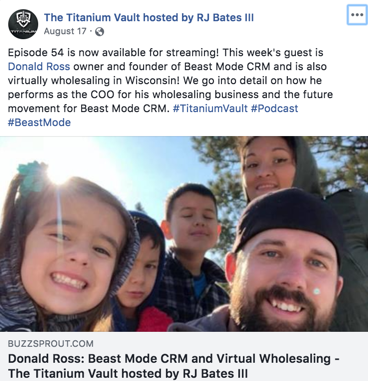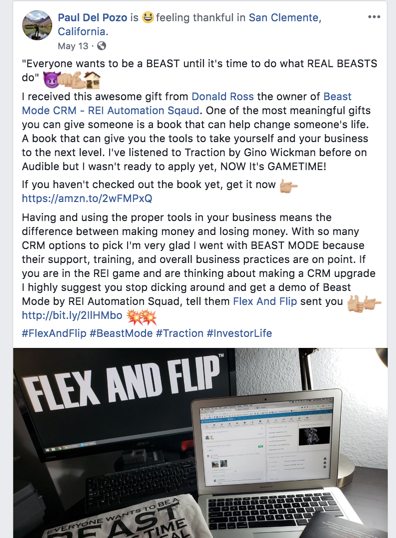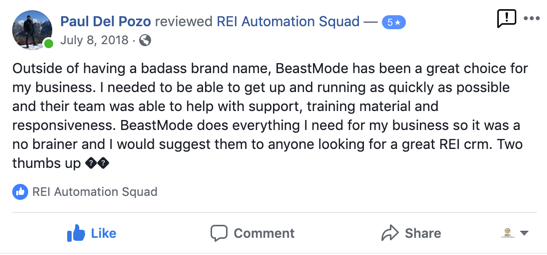 With Over 750+ Members Using Beast Mode, What Are You Missing Out On?
What Do You Get…
Mobile App (Iphone & Android)
Full Online Knowledge Base w/ Videos

Optional 1 hour Onboarding 1 on 1 via Zoom

OnCarrot Optional Integration (One time $97 connection)

Lead Sherpa Automated Integration (free setup)

Access Control (Podio Based)

Nightly Data BackUp to Prevent Loss of Data

Google Street, Aerial, and Map views

Contact Manager (Realtors, Lawyers, Title, etc.)
Weekly Members Only Live Q&A Screen-share Calls

Email Support Ticket System

Private Facebook Group for Support
Inbound Call/SMS Capturing

Optional Click2Call Integration (one time $147 connection)

Customizable Missed Call Autoresponder

Customizable Follow Up SMS/RVM Drip

RVM Drip Follow Up (Optional $27 a Month)

Out of The Box Built Follow Up Drip Content

Task Management

Appointment Management & Automated KPI Historical Tracking

Offer Management

Built in Deal Analyzer

Contract Management

Electronic Signature Service

Automated Property Data

Automated KPI Historical Tracking
Setup Times are 3-5 Days After Submission of Your Support Ticket Request
Demo Beast Mode in Action … Check It Out For Yourself
who is a Good Fit?
We are full time real estate investors ourselves, who needed simple automation and KPI tracking. We initially built Beast Mode to fit our need…and then our fellow mastermind investors asked to us to provide the solution in their businesses. We have used the feedback from our fellow investors to make Beast Mode what it is today. We now have over 750 users on our platform, who were looking for a simple automated solution.
Our business is run off of the EOS/Traction methodology, where team members are assigned roles. It's important to have the right team members in the right seat. As you assign KPI goal numbers specific to the roles and hold them accountable to report on those numbers weekly, our platforms KPI tracking becomes a MUST.
Consistency in marketing, follow up, and answering your phones are all apart of DOING THE WORK!!! Although real estate investing is simple, it is NOT easy! If you're unwilling to be consistent and DO THE WORK, no tool or CRM will make a difference in your business.
Now the good news is if you're consistent in your marketing, follow up, and answering of your phones … Beast Mode will simply amplify what you are already doing. Many of our investors, who track their numbers find 40-50% of their deals come from follow up. What would an additional 40-50% in REVENUE mean to your business?
Who is not a fit?
If you're just getting started and figuring out what real estate investing is and money is tight … WE GET IT … everyone starts off as "newbie" and we all have to start somewhere. We offer a free Podio App Suite that is based off our Beast Mode platform. Now it's meant as a platform for you to input your seller/property information and notes and it will be free up to 500 items. It does NOT have any automation or drip follow up built into it, but it's a great starting point. You can always upgrade down the road when it makes sense! Here are some deciding factors & we would recommend the free too over our fully automated Beast Mode:
0-3 deals done

Unsure if this business is possible

Not committed to the tool for at least 6 months

Pricing would cause marketing slow down (marketing consistency is #1)

$187 a month will cause financial stress

We provide a product w/ support, but NOT a consultant or customization company. You can add fields and Apps as you see fit, but any automation (over what we provide out of the box) or customization would require you to hire a consultant or do them in-house. We do have a preferred list of consultants however.
If the above list is you currently … we don't want to leave you hanging! Click the button below to sign up for our FREE Tools Kit. Once inside the course your will be able to access the CRM section, which goes over how to request our support team to setup your FREE Podio based Simple CRM. We also have a road map that will go over some the tools we use in our business along with some 3-5 minute videos explaining the tools.
Think Beast Mode Is a Fit:
Apply Now To See If You Qualify & Get Additional Information

Click "Apply Now" & You will be able to schedule a 15 minute phone call. If we all agree it's a fit after the call an order link will be sent!